As part of Digital Storytelling for #etmooc, we were challenged to make an animated GIF. I'm pretty happy with the result. It shows the action, excitement and effort of the final game of the season.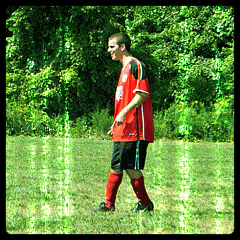 I struggled with using Gimp. Truth be told, I struggle with all photo editing. The pictures were too big, the scale was different in each picture, there were other players in the frame that flash awkwardly in the animation and it was just ugly when done. Finally, I gave up and went to the iPad. I searched for a highly ranked free photo editor that also made GIFs and settled on Fotorus. Then I dropped the images in Dropbox on my computer and saved them to the camera roll from Dropbox on the iPad. In Fotorus, I cropped all the images so my son was the same size, then used the auto-enhance so the colours were similar. Next I pulled them all into the GIF editor and chose the "matrix" filter.
Making the GIF on the iPad was quite easy, but I was frustrated with getting it off the iPad. The app easily saves to Twitter, Facebook and Tumblr, but GIFs do not show in the camera roll and the email was empty that I sent myself. Eventually I posted it to Twitter and downloaded it from there onto my computer to be able to post it here. Whew. Workflow on the iPad is crazy sometimes.