***Note*** update Oct. 20, 2013
This map still works for Flicker and Twitter, but the controls have changed. Zoom in to the desired location, click on the layers button, sign in with Twiter and change the tags in the social tab to your hashtag. Images of controls are not exactly the same as the current map.
The map below allows you to search Flickr, Twitter and Youtube for geo-located social media posts. The tag that is currently mapped is "weather" but you can change the tag by clicking on the gear icon. 
The map can be used in any classroom by: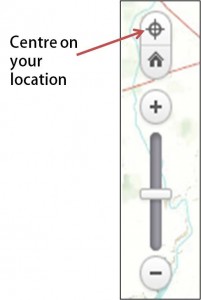 looking at what is happening in your school neighbourhood

Centre on your location or zoom in to get to your neighbourhood
change the tag on all three social media searches to the name of your school or neighbourhood

examining how people across the world are discussing a particular news event

look on Twitter to find the most common hashtag used for the event
change the tag on all three social media searches

illustrate the digital citizenship skill of choosing when to turn on the geo-location setting when creating and posting social media.
How else would you use this map?